The style and times of Karen Bennett, Olympic Silver medallist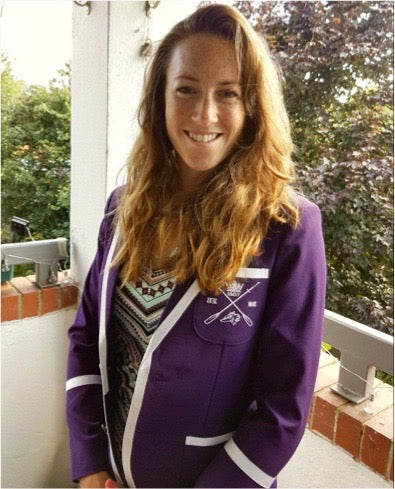 I am sitting in the bar at the Leander Club surrounded by photographs of elite oarsmen and women who have represented their club and country over the years. It seems to be the most appropriate place to meet Olympic silver medallist Karen Bennett to chat about rowing, life and of course blazers. (What else is there??)
Karen Bennett is an inspiring young athlete who makes me wonder what I have been doing with the considerably more years I have had on the planet. Already an Olympic medal under her belt she also has medals from numerous World Cups and Rowing Championships. Now a senior member of the GB rowing team, Karen chatted to me about what got her started 'messing about' in boats.
"In a way I didn't really pick rowing, I always say that rowing picked me." Karen has a soft Edinburgh brogue that might deceive you to think she was a bit of a softie. Do not be fooled, this girl is ambitious. Karen was introduced to rowing at 18, the result of applying to the Sporting Giants Talent ID programme she saw advertised by Sir Steve Redgrave. (This is UK Sport run project to find talented athletes to represent GB at a variety of sports.) Attracted to the "dangling carrot of the Olympics" and with a strong background in many different sports, Karen's testing proved her to be a good match for rowing. These sport scientists clearly know their stuff as Karen had not been anywhere near a rowing boat before!
Sitting in Leander Club, a bastion of the Establishment, generations gone by were most likely public school educated, Oxbridge graduates. It is a breath of fresh air to hear of somebody just taking up rowing without the whiff of elitism or wealth. Karen is a great supporter of opening up rowing to everyone. "I went to a normal school. It was a good school but we didn't have boats." She laughed at the suggestion that she is posh because she does rowing, and said, "come up to my house in Edinburgh and you will see." (Not an invitation!) "The Talent ID project" she continued, "has opened up opportunities to teenagers that they wouldn't have had before or maybe not even thought about."
Karen it seems is living the dream, making her love of sport her career. With her success story from the Talent Id project to an Olympic medal, I asked if she considered herself a role model for the young women coming up behind her. "I always try to do my best for women in sport and for kids that are growing up and to be a figure to follow." This of course leads seamlessly (a tailoring pun- yey!) into regatta blazers. Wearing a blazer at events is of course second nature to Karen; it is part of the uniform. "I want to look good and feel good, " she said, when making appearances at boat club dinners or business events. "This is me, I am Karen Bennett, Olympic Silver medallist and I want to make sure I am presenting myself well. I definitely think the blazer helps me do that. It definitely plays a role." Music to Ade Lang's ears of course and no we didn't pay her to say that! We chat about the highlights of Henley Royal Regatta and the array of blazer colours and patterns. Karen smiles and says, " I enjoy going to Henley to see the blazers as well because some of them are bonkers." Rowers do wear their blazers " to be proud of where you come from and what you have done and I think it is really good."
As with all dedicated athletes, Karen's time at the bar is short and she is off to prepare for the next training camp. As she leaves, I think what a positive role model she is for rowing and women's sport. So much so, Karen almost inspired me to get back in a boat... well almost!
Share this