The boat tents maybe gone but Henley Royal Regatta 2017 is not forgotten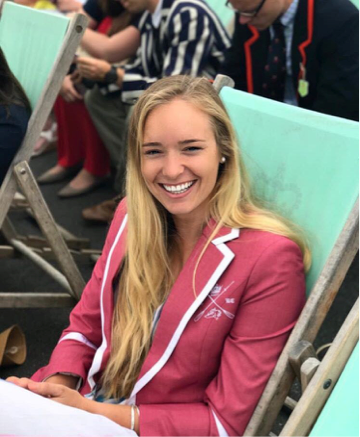 The dust has settled (or should we write puddles gone?) on another memorable Henley Royal Regatta. The rowing competition was fierce, the racing spectacular and yes - the socialising was fun too. The Adé Lang 'crew' was very well represented as oarsmen and women from across the international rowing community proudly wore their blazers up and down the Henley course.
Our friends Montclair Rowing represented the US very well both on and off the water and the crew really embraced the Regatta traditions. We hope to see them back next year!
And they say nobody watches the rowing in the Steward's Enclosure... well to prove a point, here is Stefan Paetow from Abingdon Rowing Club watching the racing in his Adé Lang blazer. No phones allowed though, Stefan....
The Yale Heavyweight crew coaches have had much to celebrate this year. They coached the winners of the Men's Varsity Eights at the IRA National Championship Regatta and the semi-finalists in the Temple Challenge Cup at this year HRR. A good year for Yale University rowing and well they look good in their blazers too!
Adé Lang was extremely proud to be seen on the winning podium this year.
Peter Lambert won the Queen Mother Challenge Cup sculling in a quad for Leander. Peter is modelling the grey blazer very well we think! The design even allows for lifting of trophies!
Meanwhile, the Adé Lang team worked hard (are you sure?), mingling with the crowds and soaking up the atmosphere. Here was a real opportunity to see all the sights of the social season in full swing. The array of colours on display was inspiring and we were pleased as our lightweight blazers served us well in the summer sunshine. It was a great pleasure to be amongst people who love rowing as much as we do, and who celebrate their rowing clubs by wearing their club blazers with pride. We are so thrilled at the success of Adé Lang at this year's Regatta that we are already making plans for HRR 2018!
Share this