Rowing Fashion - If it was good enough for Keith Moon...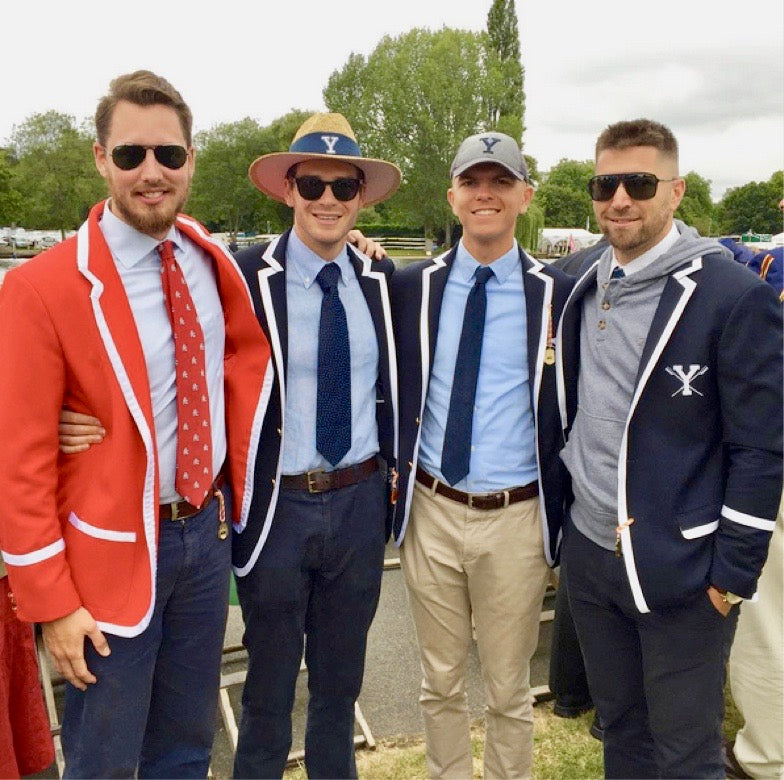 Year in, year out, the regatta season evokes the proud tradition of the rowing club blazer. Henley Royal Regatta, a pageantry of racing colours, is only a few weeks away and at this prestigious event, everyone - from competitor to spectator - dons their blazer with pride. Adé Lang will be there too, combining fashion, style and racing tradition with their custom-designed and beautifully crafted regatta blazers. This is their second year at the regatta and they are celebrating by outfitting Yale, the US IRA National Champions. It will be fun to see the blazers worn out and about in the enclosures after racing.

Rowing heritage is an oft-covered topic, with a rich history on both sides of the Pond. Whether the word 'blazer' really derives from jackets worn by sailors on the eponymous HMS Blazer, or indeed from the scarlet coats worn by competitors of Lady Margaret Boat Club in 1825, these striking sporting jackets are here to stay. Steeped in rowing history, these iconic blazers have crossed over to the fashion world and beyond. Who would have believed that Keith Moon, the epitome of a rock and roll bad-boy, would regularly don the stripes of a regatta-style sports jacket? Unlikely, perhaps, but true - such is the appeal of the regatta blazer. Multi-purpose and cool, a regatta blazer is as equally at home worn on the back of a Vespa or on the banks of the Charles River.

Adé Lang is proud of that long-standing heritage and, well, if an oar 'ain't' broke, why fix it? Taking the classic regatta blazer as a starting point, they have designed a slim-cut, elegant sports jacket that can be customized to fit all shapes, styles and tastes. With a variety of fabrics and colours, the world really is your oyster when it comes to choosing your blazer design. To combat the summer heat, Adé Lang have developed their own exclusive lightweight fabric to keep the wearer cool while maintaining the traditional blazer look.


Each blazer is made-to-measure, so there will be no struggling to do up the buttons, even after a good lunch! Every jacket is tailored to the individual and alterations will always be made to ensure an exact fit. Want a bright coloured trim? No problem. Want vents in the back? How many? It is in these details that a bespoke, Adé Lang blazer really stands out. Whether you want a raucous celebration when you remove your jacket, or more muted tones, there is a lining to suit everyone. The buttons are fun too, from traditional brass buttons to rowing blades. These eclectic touches will guarantee you a unique, beautiful jacket, even when you are wearing your club colours with your crew.Adé Lang can promise a beautiful garment but the jokes at the fitting may need working on!

We are really looking forward to Henley Royal Regatta. We can't wait to watch some amazing racing and, of course, add that Adé Lang savoir-faire to the banks of the River Thames.
Share this